Chances are, this is the first time you're faced with the decision on how to go about scheduling a destination wedding day or elopement timeline, and you will have an overwhelming amount of information, resources, and opinions surrounding this topic, which perhaps will not make your attempt at planning any easier, if you have a wedding planner helping with your wedding it will be so much easier, that will make this much easier, but if not, or if you just want to have a general idea of how a time line could work, this is your place.
So, over all these years, we've seen couples who stretch to accommodate everyone else's needs, and couples who have remained unwaveringly true to whatever they felt were most important pieces of their day; and throughout it all, we've gathered a few of our own pieces of advice that we feel needs to be shared with couples who are looking for honest, tried-and-true advice when it comes to planning a wedding day or elopement timeline. 
Remember.. doing things your own way matters, it matters more than we could ever articulate here. 
Throughout our entire life, we're bombarded with thoughts, ideas, opinions, and outside pressure to do things a certain way, things like act a certain way, or stray from our own ideas and opinions in order to please others. When it comes to your wedding day, we urge you to lean into the idea that this day is for you to celebrate love; it's a day for you two to be happy for who you are, as individuals, as well as who you've grown to be as a couple, keep that in mind.
So, by now you are wondering, how the he** do I plan my wedding day timeline?
There are a few main things you should ask yourself to plan this the right way, do you want an intimate elopement? Or a destination wedding with more people to join you?
Ask yourself, what do you value the most in your relationship?
This can be the importance that you place on relationships with family and friends? Or perhaps it's the way you both bring out the best in each other? What is it? Think about it, and once you find it keep it in your mind, because this will be the foundation of all the decisions you will take.
For example, if you really value your relationship with your family of friends, we can scratch down the idea of very intimate (just the two of you) elopement, maybe the idea of having a full destination wedding experience will fit better so you can share a lot of time and experiences with your beloved ones. But on the other hand, if you have a really private relationship where the experiences between you two are the most valuable, the idea of having an intimate Costa Rica elopement could be the perfect fit.
After this important decision is taken, there are also some things to settle and that perhaps haven't pop up in your mind until now:
What time of the day do you want to have your ceremony? Moring? Afternoon? Or perhaps during the evening?

How do you imagine your getting ready? Do you want to get ready separately and not see each other until the ceremony? Have you considered having a first look to calm the nerves and have a more intimate time just the two of you?

How would you like your ceremony? Would you like it to be religious? Perhaps something more spiritual? Would you like to exchange vows? Or perhaps having other people besides the officiant to say some kind words?

What about the photos? Do you want something quick or perhaps something more extended for the two of you?

What are you feeling in terms of the reception? Are you more into the idea of having just a sit down dinner? perhaps outdoor BBQ? A big party maybe? Or perhaps you don't want a reception at all.
Once you have those non-negotiables chosen, then you can move into some more of the logistical details and can start building up your day-of timeline. With the main core decisions mentioned above, everything else can be fit in throughout that base timeframe.
Let's split our main decision into two: destination wedding or elopement.
As an example, let's say that you would like to have a full destination wedding in March during the afternoon, and you would also like to get ready separately, you don't want to have a first look, you would like to have an spiritual (but not religious) ceremony and exchange vowls. Also, you would like to have a cocktail hour after your ceremony, and you would like to have dinner not too long after the sunset, ohh!!.. and you want to party after that.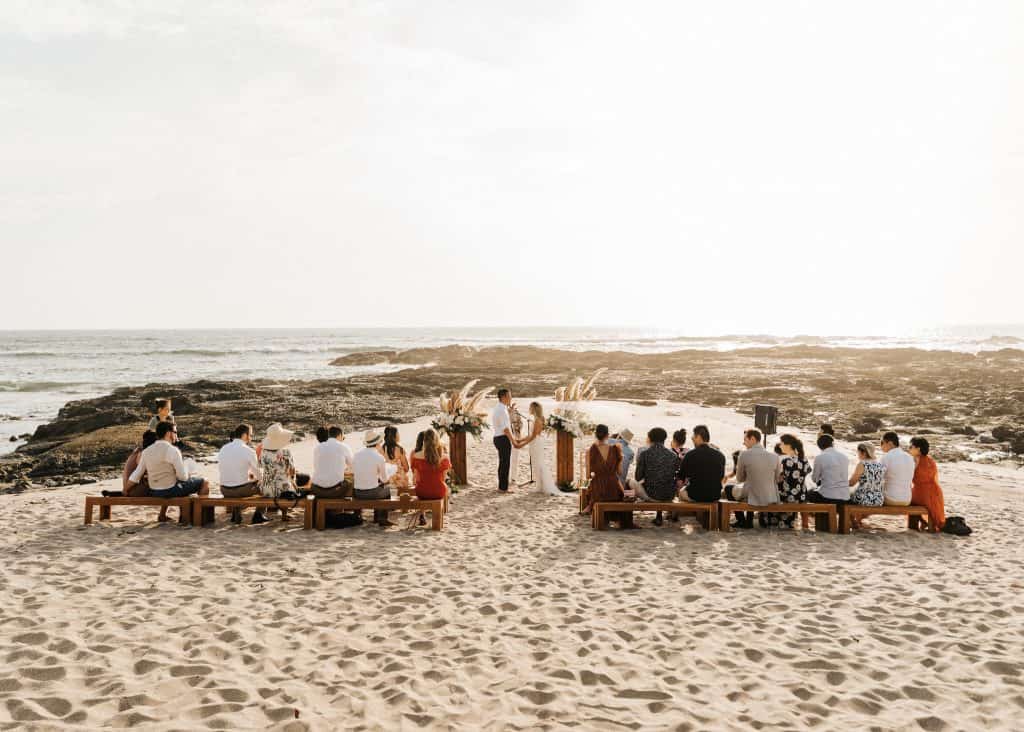 Having all that in mind let's get into more logistic and technical stuffs. Think about the light, in Costa Rica the light behaves different than in the northern or southern hemispheres, the sunset time changes a little depending on the time of the year, for example in March (as our example) the sunset it is around 6pm, but in November it is around 5:20pm, so if you want to have an afternoon celebration and want to take advantage of the natural light you have to be aware of this, it's always good you check when is the sunset and what time everything is going to be dark. As a general advice, we always recommend to start the ceremony between 1.5h to 2h before sunset, so you will have good time for all the activities after the ceremony.
The following example is one of the most common ways to set a timeline in Costa Rica, it doesn't mean it's the only way, but in most cases, it works pretty well.
When is the sunset? 6pm
What time is the ceremony? 4pm.
12:00pm – Start getting ready**
2:00pm – We normally start our photography coverage here
4:00pm – 4:30pm – Ceremony
4:30pm – 4:50pm – Family Photos ( keep in mind that each group takes around 3min to be completed so this vary depending on how many groups would you like to have)
4:30 – guests enjoy sunset and have a cocktail our
4:50pm – 5:10pm – Bridal Party Photos
5:10pm – 5:40pm – Couple Photos
5:40pm – Join your guests back for cocktail hour and share some time with them before the reception.
6:00pm – Reception begins, couple entrance
6:05pm – Speeches ( it can take longer depending on how many speeches)
6:15pm – Dinner time
7:15pm –  First dance
7:20pm – Party time
** The time you take for the hair and makeup depends on many factors such as how many people is having their makeup & hair done besides the bride, if more people is having makeup & hair done, please, don't leave yourself as the last one person, this is a big mistake that could happen, it is basically because you might run out of time, and if you need to change something you won't have enough time to do it. In most cases a delay in the wedding it's happens because the makeup & hair takes longer than expected.
From a base template such as the one that we laid out above, we're then able to slide that around to fit whatever times you're planning for, and we are also able to push and pull any/all of those times to suit our wants and needs for the day-of. 
Want a first look? Add some extra 20min before the ceremony and adjust the time you start your getting ready.
Having some long distances between locations? Add this time to the timeline and adjust everything else.
Want more time for photos and take advantage of the best light? Extend the "Couple Photos" section a bit, and pay attention what time is the sunset by the date of your celebration, once you know this, adjust the rest of the timeline accordingly.
Need more travel time between locations? Add in your driving time and then adjust the rest accordingly.
Let's have another example, this time, you are planning an intimate elopement, let's follow the same rules as with a normal destination wedding.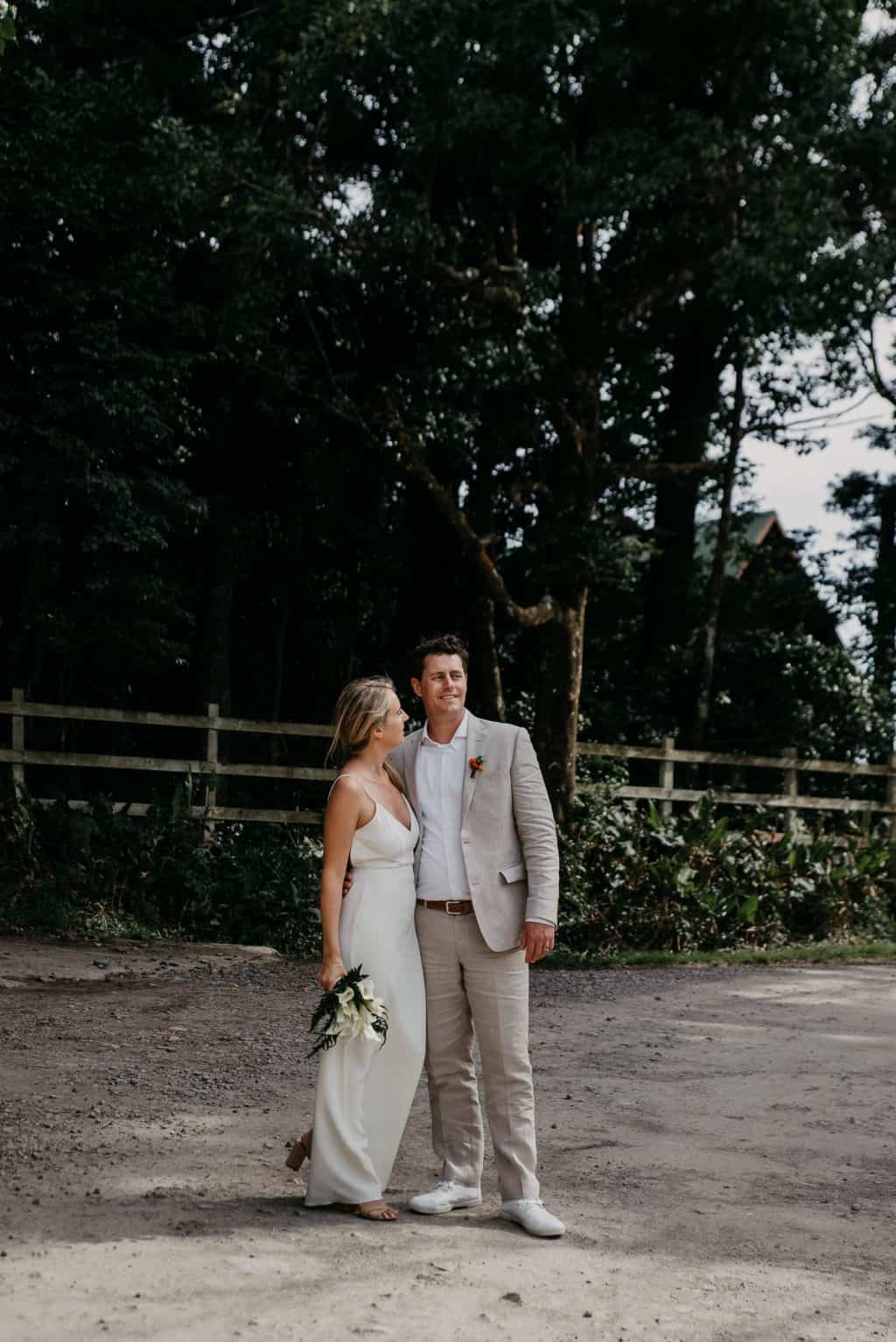 So for this example you are having an elopement in March during the afternoon, and you would also like to get ready together, you would like to have an spiritual (but not religious) ceremony and exchange vows, and you want to get the best light for your couple portraits.
When is the sunset? 6pm
What time is the ceremony? 4pm.
2:00pm – Start getting ready (take a shower, start with makeup & hair)
3:00pm – We normally start our photography coverage here
4:30pm – 4:45pm – Ceremony
4:45pm – 6:00pm – Couple Photos
As you can see, an elopement is a much shorter version of a wedding, with the advantage that you will have more time for yourself, from a photographic point of view we will have some more time to be with you for the couple photos, which is totally great.
As a final advice, go slow, trust your gut, trust each other, turn off the outside noise, enjoy the process, and again, go slow.  Don't lose sight of what's most important here – the wild and wonderful ride of togetherness that has brought you here, and will continue long after this lovely experience has taken place. Who you are, individually, as well as a couple, is more important than any day on a calendar or decision that you make when it comes to planning. 
Things to keep in mind while planning your timeline:
Sunset: On a sunny day, the light is the most flattering when the sun begins it's descent towards the horizon (on a cloudy day – your light is going to be soft, creamy, and beautiful all day long!). If the idea of soft-light sunset photos are the ones you like the most but you aren't able to plan your photos around sunset, ask your photographer if there is a way to work this out, it is totally worth it.


Travel time between locations: please considere the time it takes to move between the diferent locations, in Costa Rica once the sun is going down.. IT'S GOING DOWN! so taking advantage of the timming is very important. Travel time can really add up (depending on where you're wanting to go/how many places) and if it's not accounted for it can really set you behind schedule.

Time for group photos: How important are the group shots of you and your new husband/wife? For some couples these shots are probably the most important of their entire day, if that is your case, please allow enough time to capure this, in most cases to gather each group takes about 2 or 3 minutes, so, if you are having 10 group shots it can take up to 30min. We strongly encourage you to check in with your photographer and planner to get their opinion/ guidance on this subject. Your photographer has planned multiple timelines, and your channel of communication with them should always be open and encouraged.

What time would you like to join the reception after your couple portraits? Do you want to rejoin your guests before dinner, or right as dinner starts? At what time do you want to re- join your family and friends in order to continue on the festivities of the day together?

Don't forget about the receiving lines: if you plan to have a receiving line post-ceremony at your wedding, then make sure and schedule that into your day. Receiving lines always tend to run a bit longer than you would think, so give yourself ample time, 15 or 20min will be enough depending on how big is your wedding.
If you think this could be too overwhelming for you, consider hiring a wedding planner, we have some great contacts with the top destination wedding planners in Costa Rica, we are sure you will find the perfect fit for what you are looking for.
Lastly, if you'd like a little planning help from our side, or would like to chat with us more about planning your own wedding or elopement and getting a take from our photography-perspective, we'll love to hear from you.